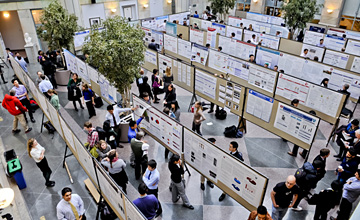 Posters filled the TMEC Atrium at the 73rd annual Soma Weiss Student Research Day on Jan. 17.
Like many of her fellow Harvard medical and dental students, Neha Patel worked in a lab as an undergraduate. Still, it took a scholarly project with a faculty mentor to transform the way the HSDM student thought about medical research.
"I walked in and had no idea what to expect," said Patel, who worked with
Man Wai Ng
, HSDM assistant professor of developmental biology at Boston Children's Hospital, to investigate approaches to reduce childhood caries. "I thought research was pipetting, alone at a bench. I didn't expect it to be so social and collaborative."
Patel was among more than 160 students to present their work Jan. 17 at the 73
rd
Soma Weiss Student Research Day
, the largest showcase of student research in the history of Harvard Medical School.
"Today is a credit to the tremendous talent of our students, the dedication of their faculty mentors and to the Scholars in Medicine program," said Jeffrey S. Flier, dean of the faculty of medicine at Harvard University.
In a teeming TMEC Atrium, Harvard medical and dental students presented a record 185 posters documenting research projects that spanned basic science, clinical and translational research, population medicine and the medical humanities. Contributing to the record output was the Scholars in Medicine program, which pairs students with faculty research mentors in areas of mutual interest.
Victor Anciano found his research mentor through Harvard Catalyst. Anciano, a New Pathway student, knew he wanted to pursue research in sports medicine, orthopedics and surgery. Through Catalyst's
Profiles
database, Anciano found
Dennis Kramer
, an orthopedic surgeon at Boston Children's Hospital, who helped Anciano research recovery after surgery to repair a tibial eminence fracture — a common youth knee injury.
Patricia D'Amore
, chair of the Faculty Committee on Scholarship In Medicine, congratulated all of the students and invoked the legacy of Soma Weiss, the HMS teacher and physician for whom the student research day is named.
Weiss was physician in chief at Peter Brent Brigham Hospital when he died, in 1942, just four days after his 43rd birthday.
"In the intervening years, his generous spirit, his eager and able services for the Hospital, his great abilities as a physician, investigator, and teacher, left an indelible imprint on the many students he mentored," said D'Amore, HMS professor of ophthalmology (pathology) at Schepens Eye Research Institute.
Ten students recognized with named prizes or as runners-up. They were:
Elizabeth D. Hay Prize for Basic Science Research
First Prize: Vinayak Muralidhar, Influence of metabolic regulation on primary cell proliferation and differentiation
Second Prize: Laura A. Huppert, Characterization of an ESX-Type Secretion System in Bacillus subtilis
Judah Folkman Prize for Clinical / Translational Science Research
First Prize: Neha A. Deshpande, Should a Seprafilm® Adhesion Barrier be Used at Cesarean Section?
Second Prize: Andrew Stamm, Negative Reinforcement Leads to Impaired Overnight Consolidation of a Spatial Navigation Task
Charles Janeway Prize for International Research or Service
First Prize: Wilfredo R. Matias, Complementary Efforts to Reinforce the Implementation of Oral Cholera Vaccine in Rural Haiti
Second Prize: Simin Gharib Lee, Implementation and Evaluation of the Impact of a Maternal Health Checklist in the Dominican Republic
Robert Ebert Prize for Community Health Delivery or Service
First Prize: Nicole Jackson, Identifying Key Drivers of Frequent Urgent Care Visits at the Crimson Care Collaborative Clinic at MGH-Chelsea (CCC-Chelsea)
Second Prize: Neha H. Patel, Disease Management of Early Childhood Caries: Part II
Leon Eisenberg Prize for Medicine in Society Research
First Prize (tie): Charles Liu, The Impact of California Emergency Department Closures on Inpatient Mortality
First Prize (tie): Min H. Wu, The Effects of Direct to Consumer Advertising on Prescription Drug Sales: A Comparative International Analysis
In addition, four students were selected to give oral presentations:
Hoi See Tsao, Changing the Way We Approach Medically Complex Children: A Screen for Unmet Needs
Vinayak Muralidhar, Influence of metabolic regulation on primary cell proliferation and differentiation
Alexander Ryu, Are Lower Rates of Spending Growth Here to Stay? Analyzing the National Spending Slowdown 2007-2010
Jia Zhu, Rare Variants in Genes Implicated in GnRH Deficiency in Constitutional Delay of Puberty Patients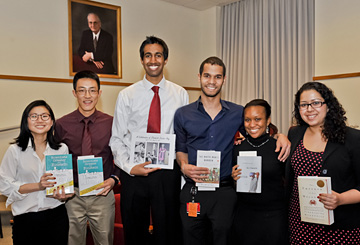 Student prize winners (from left): Min Wu, Charles Liu, Vinayak Muralidhar, Wilfredo Matias, Nicole Jackson and Neha Deshpande